June 16, 2022 – Town of Polk, WI – On Wednesday June 15, 2022, at approximately 10:24 p.m., the Washington County Sheriff's Office was notified of a house fire in the 3400 block of Town Line Road in the Town of Polk. The caller on scene reported she believed there was a fire in the ceiling of the residence and smoke was visible in the home.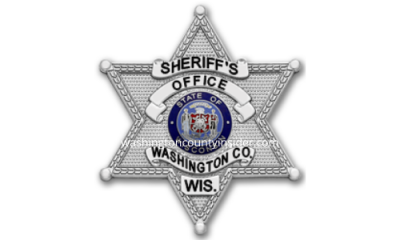 It was reported to the first responding deputy that a subject was still inside the residence. He was able to make contact with the subject and confirmed the home had been entirely evacuated.
Click HERE to SUBSCRIBE to FREE local news at
Jackson Fire Department responded to the scene. They were also assisted by Hartford Fire Department, Slinger Fire Department, Kewaskum Fire Department, Cedarburg Fire Department, West Bend Fire Department, Fillmore Fire Department, Newburg Fire Department, Richfield Fire Department, and St Lawrence Fire Department.
Ambulances also responded to the scene from Germantown Fire Department and Lifestar.
There were no injuries to the property owners or any personnel on scene as a result of the fire. Traffic on Town Line Road was shut down to facilitate the fire apparatus. Preliminary damages to the residence were estimated at $150,000. The American Red Cross was contacted to assist the family.
The circumstances surrounding the fire did not appear to be suspicious in nature and were believed to be the result of either a lightning strike to the roof of the residence or an electrical issue. It was determined by fire personnel on scene that the fire originated in the attached garage portion of the residence.