June 16, 2022 – Town of Wayne, WI – On Wednesday June 15, 2022, at approximately 8:45 p.m., the Washington County Sheriff's Office was notified of a residential fire in the 5400 block of Hideaway Circle in the Town of Wayne. The initial caller on scene reported there was a fire in the attached garage of the residence and active flames were observed coming from the roof.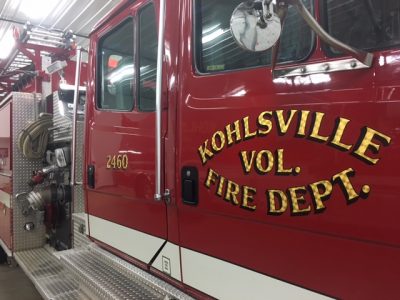 Kohlsville Fire Department responded to the scene. They were also assisted by Allenton Fire Department, Slinger Fire Department, Kewaskum Fire Department, Campbellsport Fire Department, West Bend Fire Department, and St Lawrence Fire Department.
Click HERE to SUBSCRIBE to FREE local news at
They were able to contain the fire mainly to the attic of the residence. Nearby homes did not require evacuation and traffic in the area was not affected.
There were no injuries to the property owners or any personnel on scene as a result of the fire. The residence was a single family wood structure. Preliminary damage estimates were $175,000.
The circumstances surrounding the fire did not appear to be suspicious in nature and were believed to be the result of a lightning strike to the roof of the residence.