March 28, 2023 – Washington Co., WI – There's going to be a big void in the racing community across Washington County, WI as friends from Slinger and Beaver Dam racetracks are mourning the loss of Jerry Priesgen.
He was known as the man in the pink hat, and was a stickler for following rules and regulations, but he was much loved.
Priesgen, 61, was the Town of Addison man killed in the three-vehicle accident Monday afternoon, March 27 at Highway 33 and Alpine Drive.
David Mccardle – "Short track racing definitely lost a great and passionate man for the sport"
According to MSA Sprints – "God must have needed a tech person at the Golden Speedway. It is with a heavy heart that I post the loss of a long time MSA official. Jerry Priesgen was killed in a car accident on Monday, March 27. Jerry was the MSA Competition Director from 1999 – 2004. He was instrumental in writing the MSA rule book and procedures. After Jerry was no longer competition director, he continued to tech engines for the drivers of MSA to present and was an official at several other race tracks in WI. WI racing has lost another good one. RIP Jerry."
Aside from the track, Priesgen was also a familiar face at Zuern Building Products in Allenton, WI.
A statement from Zuern was posted on social media:
It is with a heavy heart that we announce the passing of Jerry, our beloved colleague, friend, & family. Jerry was a fixture at Zuern since 1987, and his humble demeanor, wealth of knowledge, and "make it a great day" statements will be greatly missed.
.
Jerry was a true friend, always willing to help others and share his knowledge. He was a dedicated team player, and his dedication to Zuern was evident in everything he did. The Allenton team will never be the same, we will miss Jerry rattling off the correct item number or customer's phone number, the chatter about racing, his endless knowledge, and most of all his smile and presence. He was also a kind and compassionate person, always willing to lend a listening ear or offer a helping hand.
.
Jerry's passing is a great loss to our team, and we will all miss him dearly. However, we can honor his memory by carrying on his legacy of making every day a great day. Let us all strive to be the kind of people that Jerry was, and make the world a better place.
.
Please keep Jerry's life partner, Carolyn, his family, friends, and our Zuern team in your prayers.
.
Lots of love to the Bear…
The Zuern Family & Team
 Ryan Kuhn – "You were the guy that helped us push to get Hartford Snocross Racing on the maps to help the snomobile community. You were very dedicated in helping so many people and loved asking you racing questions at the counter after a Slinger Nationals race. Gonna miss seeing you at the service counter at Zuerns."
Christine Kuhl – You were one in a million! Kind, smart, funny and always my safety net at work. You were always thinking of others, and always had a good story to tell. You will be greatly missed; I can't even imagine Zuerns without you.
David Kinjerski said of the image below, "These stickers will be available and free at Beaver Dam Raceway, Slinger Super Speedway, as well as with the IRA Series."
According to the Washington County Sheriff the accident happened at 1:15 p.m.  Friends say that's when Priesgen was going home for lunch. He was in the lead vehicle, slowed and came to a stop to make a left turn onto Alpine Drive.  The second vehicle, occupied only by the driver, failed to stop for the lead vehicle making the left-hand turn and rear-ended Priesgen's stopped vehicle which then went into the oncoming lane of traffic, as a result of the collision, and struck a semi-truck which was westbound on Highway 33.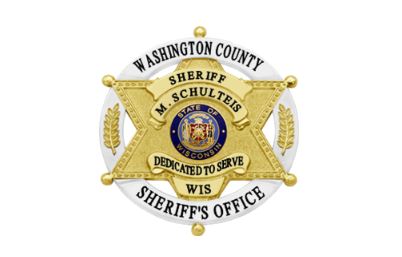 Deputies from the Washington County Sheriff's Office along with the Allenton Fire Department responded to the scene.
Upon arrival of emergency personnel, it was determined the operator of one of the vehicles was severely injured. Flight for Life was requested, landed on Highway 33 and the injured subject was ultimately transport to Froedtert Wauwatosa by Allenton Fire.
Later, the Washington County Sheriff's Office was notified by staff at Froedtert Hospital that the operator in the lead car was deceased.  The operator of the semi-truck and vehicle behind the lead car were not transported by rescue.
The crash remains under investigation by the Washington County Sheriff's Office. This is the third fatal crash in Washington County in 2023.