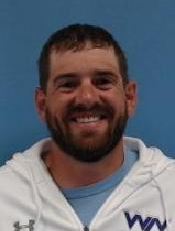 Oct. 11, 2018 – West Bend, WI -West Bend West has a new head baseball coach as Dan D'Amico has been hired to fill the post following the end-of-season retirement by coach Billy Albrecht.
"An opportunity to coach a team like West Bend West doesn't come up every day," said D'Amico. "Having coached a summer team for the last six years and playing high school summer baseball myself the tradition of West Bend West is hard to miss. I was well aware going in of what success coach Albrecht had in the past."
D'Amico, 31, is currently a teacher at Waukesha North High School. He mentioned the strong tradition of baseball in the community of West Bend as being extremely inviting.
The WIAA spring baseball season starts in March 2019.  D'Amico said he realizes baseball fans are not familiar with starting a season in the snow but it should be an enjoyable experience.
"This will be a good situation for West Bend West because it will allow the kids to play more baseball," he said. "They'll get a chance to play for their high school in the spring and they'll get a chance to play club or with some travel team in the summer."
D'Amico was more than familiar that he was coming into a new stadium situation as Carl Kuss Memorial Field is undergoing an extensive upgrade. "Fortunately I was able to play in the last regular season game at Regner," he said. "We played West Bend East in the last game before the playoffs.
"I'm well aware of the history of the stadium and it's a beautiful stadium and I think the upgrade is going to be a wonderful opportunity for both schools and the community and I'm excited to see what it looks like," he said.
D'Amico was coach of the Waukesha North boys varsity baseball team for the past five seasons. He started as an Assistant Varsity/JV Head Coach in 2013 and was head coach the last four years.
D'Amico attended UW-Stevens Point where he majored in Physical Education. He is currently a Phy Ed teacher as well as a football and track assistant coach at Waukesha North.
Questioned whether he will be changing jobs and teaching in the West Bend School District, D'Amico said, "My students ask me that 15 times a day and right now there's no teaching job that's been offered to me and I plan on staying in Waukesha as long as they'll have me."
Albrecht coached the West Spartans baseball team for 13 years. He retired at the end of the 2018 season.
Photo courtesy Waukesha North – Team Home Waukesha North Northstars Sports