Is it the right bridge? We ordered a white one….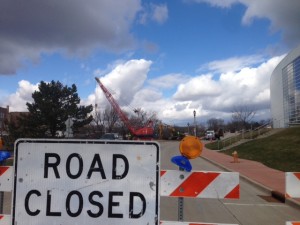 So the prefabricated bow truss pedestrian bridge has arrived in West Bend…. but is it the right one? Everybody is checking – the contractors and the city are checking. Looks like the one the city ordered was supposed to be white.
Somebody forgot to check the box next to 'white' when they shipped this in from Colfax.
E.J. Mceldowney was the fella that drove the bridge into town. He had been on the road for four and a half hours.  "No problems," he said holding up his finger in a 'shush – keep-it-quite' motion so as not to taint his good luck.
Mceldowney had an escort car on the way in.
According to Mceldowney the bridge weighs 32,000 pounds, it's 84-feet long and a half inch shy of 16 feet wide and loaded on the truck it's almost 15-feet tall.
Pick it up off the truck with the crane and the backhoe, set the end down in the water and then lift it with the backhoe and put it in place.
"No Judy – you can't run across it tonight because we have to pour concrete on the steel deck yet," said Bill Voelker, the backhoe operator.
Contractors are also going to have to pour four catch basins.
Voelker said they'll put the chains on it and lift it off the truck and then see how the bridge reacts in the air with the wind. If Mother Nature is too much then they'll have to wait another day.
The city is also determining the 'white factor' because if the bridge needs to be painted, one of the contractors said they probably don't want to do that with it hanging over the river.  One of the closest facilities to paint a bridge, according to the contractor is in Minnesota.
Stay tuned!