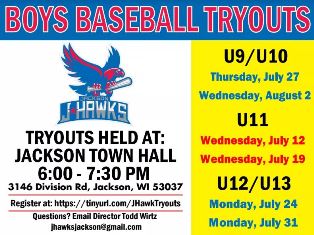 Jackson, WI – Registration for boy's baseball tryouts for the J-Hawks is now under way. The tryouts will be held at the Jackson Town Hall from 6 p.m. to 7:30 p.m. on the following dates:
U9/U10: Thursday, July 27 and Wednesday, August 2
U11: Wednesday, july 12 and Wednesday, July 19
U12/U13: Monday, July 24 and Monday, July 3.
Click HERE to register today or contact Todd Wirtz at [email protected].