West Bend, WI – Are you looking to start your career out right? Or just looking for a change of pace from a monotonous work week?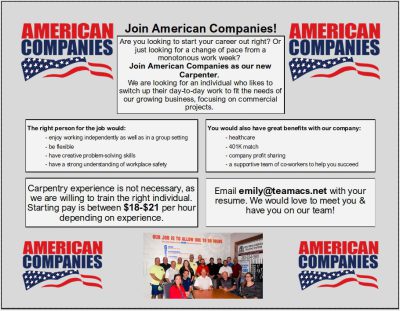 Join
American Companies
as our new carpenter. We are looking for an individual who likes to switch up their day-to-day work to fit the needs of our growing business, focusing on commercial projects.
The right person for the job would enjoy working independently as well as in a group setting, be flexible, have creative problem-solving skills, a strong understanding of workplace safety, and the willingness to learn.
Carpentry experience is not necessary, as we are willing to train the right individual.
Starting pay is between $18-$21 per hour depending on experience. You would also have great benefits with our company: healthcare, 401k match, company profit sharing, and a supportive team of co-workers to help you succeed.
Click HERE to contact American Services
We would love to meet you and have you join our team. (262) 334-3811