Cedarburg, WI – There's a job opening for a Licensed Plumber- JP, JPRA, MP, MPRA at JJ's Plumbing Repair in Cedarburg.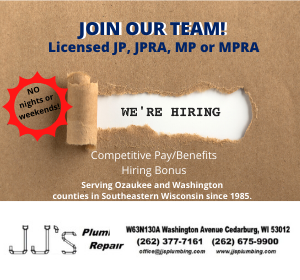 ** Are you tired of working nights and weekends? Are you missing out on precious family time? No nights or weekends. **
JJ's Plumbing Repair is a family-based company that has been serving Ozaukee and Washington counties in Southeastern Wisconsin since 1985. The company is founded on prompt service, quality work, and affordable rates. The ideal candidate will be a friendly, hard working, quality-oriented professional able to work alone and as a member of a team.
RESPONSIBILITIES
-Develop an understanding of products and installation procedures used by the company.
– Diagnose and repair residential and commercial plumbing systems and lead customers to informed and confident decisions.
-Must have experience in servicing, troubleshooting, diagnosing, repairing and installing: water heaters, water softeners, water filtration systems, pressure tanks, well pumps, tubs, showers, toilets, faucets, various pipes, garbage disposals, dishwashers, gas piping, etc. as well as sewer and drain cleaning and general repairs according to specifications and plumbing codes.
-Maintain truck, tools, and inventory in company vehicle provided.
-Follow the outline of company policies and procedures.
-Be thorough in inspections, and accurate in quoting replacements or repairs.
-Help maintain and promote a high company ethical, professional, and friendly work environment.
REQUIREMENTS
-Current Journeyman Plumber Restricted Appliance license or higher in Wisconsin
-Valid driver's license and good driving history required at time of application and maintained throughout employment.
-Positive attitude, drug-free, exceptional people skills, ability to work without direct supervision and good time management skills.
-Work day begins and ends at company warehouse and there is typically no night or weekend work.
REQUIRED EXPERIENCE: Plumbing: 2+ years
Click HERE for details on salary and benefits.