Jobs, jobs, jobs at Legendary Whitetails in Slinger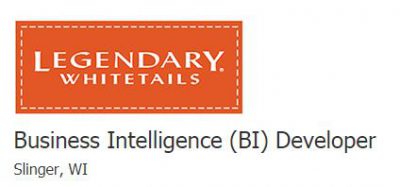 Oct. 16, 2018 – Slinger, WI – Legendary Whitetails in Slinger is looking to hire a Business Intelligence Developer.
This entry-level, broad scope role will be involved in Business Intelligence (BI) development. In this role, you should have a background in data and business analysis. The position requires strong analytical, technical and process support within the IT group and within the business to enhance our business intelligence systems to help us make better decisions.
Responsibilities
Translate business needs to technical specifications
Design, build and deploy BI solutions (e.g. reporting tools)
Create tools and data structures to store data (e.g. OLAP cubes, data warehouses)
Create tools to extract, transform and load data cross databases
Evaluate and improve existing BI systems
Develop and execute database queries and conduct analyses
Create visualizations and reports for requested projects
Develop and update technical documentation
Click HERE for more details and to apply.