January 9, 2021 – Hartford, WI – Josef "Joe" Hornitschek was born in Zebus, Czechoslovakia, on July 18, 1929, to parents Josef and Maria (Uhr) Hornitschek and left this world on January 7, 2021.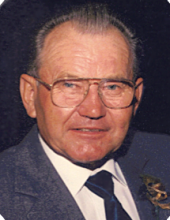 Displaced and separated from his family at the end of World War II, Joe escaped occupied East Germany and moved to Viersen, West Germany, in 1946 where he worked as a bricklayer rebuilding a war-torn nation.
During this time he met and then joined Paula (Friedrichs) in marriage on February 11, 1961, departing shortly thereafter on March 27, 1961, to cross the Atlantic aboard the USS United States for a new life in America.
Settling first in Milwaukee, WI, Joe and Paula saved to purchase a farm in Hartford, WI, in 1965 and while continuing to work as a bricklayer Joe would open his own business, Powder Hill Evergreens, from which thousands of trees now grace Southeastern Wisconsin for all to enjoy.
He would eventually retire to fully enjoy the family & friends, trees, nature, and hunting he loved. Josef is preceded in death by his parents, brother Leo Hornitschek, and sister Gertrude Maddaloni.
He is survived by his wife, Paula, sons Michael and Norman, daughter-in-law Polly, grandchildren Forrest and Sydney, and sisters Reinhilde Block and Johanna Sebastian. Joe will lay in rest at St. Lawrence Cemetery.
A Celebration of Life for friends and family is planned for Summer 2021.