Kertscher/Zale dominate stop No. 7 Kettle Moraine Monday Bass Tournament | By Bryan Miller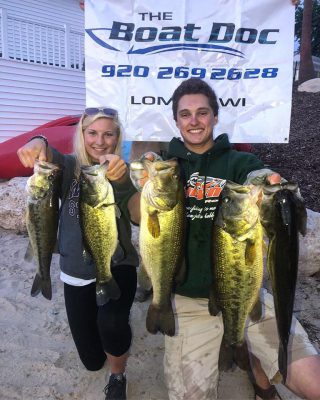 June 27, 2018 – Washington Co., WI – When you take 16 teams and put them on a smaller lake like Kettle Moraine, then add a great weekend weather wise for fishing and recreational boaters, it's going equal one tough Monday for fishing.
That was exactly the case Monday June 25, with only one team bringing in a 5 fish limit and only 35 fish in total caught amongst 16 teams.
1st Place- Dominating the night and coming out ahead of the nearest competitor by over 4 lbs was Logan Kertscher and Mackenzie Zale. The duo were the only team to bring in a limit at a impressive 11.63 lbs in which Logan also took home big bass honors with a solid 3.25 largemouth.
2nd Place-Caleb Niedfeldt and Adam Zinda who have been a consistent team lately topped the scales at 7.50 lbs with 4 fish.
3rd Place-Doug Duernburger and Mase Koerber took the 3rd spot keeping the weight tight with 4 fish for 7.44lbs
4th Place- Having there best season to date, Alex Crimmings and Rob Pasbrig backed there win last week with a solid bag of 4 for 6.99lbs
The Trail heads to Big Cedar Monday July 2 for the 8th stop.