Kettle Moraine Lutheran advances to regional final with strong win over University School of Milwaukee. By Jacob Moeller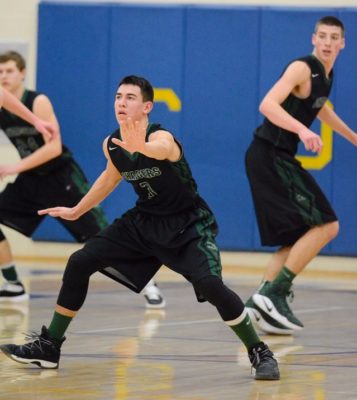 March 3, 2017 – West Bend, WI – Kettle Moraine Lutheran is on to the regional final after defeating University School of Milwaukee 52-43 on Friday night.
After a tight first half, KML led 23-22.
Midway through the second half, the Chargers took control, going on a quick run increasing the lead to as many as 14, an advantage they would not relinquish.
USM made a furious comeback in the final minutes, but it was too little too late.
Kettle's rock-solid defense was the key to the game, forcing 19 turnovers and holding the Wildcats to just 38-percent shooting.
KML's Joey Behm led the game in scoring with 17 points, and Andrew May put in another strong performance with 11.
The Chargers are back in action Saturday night, facing Martin Luther in the regional final.
Photo from left to right, Brandon Heckendorf, Grant Biesterfeld, and Mason Shambeau.
Photo courtesy of Diane Behm.