Kettle Moraine Lutheran advances with record-setting final score over Kenosha Reuther. By Jacob Moeller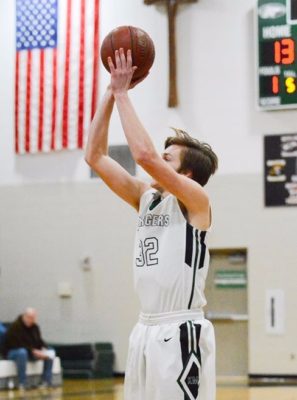 Feb. 28, 2017 – Jackson, WI – Kettle Moraine Lutheran took care of business in its first game of the state tournament Tuesday night, routing Kenosha Reuther 107-31.
The total was the highest score in program history, breaking the previous mark of 100 points set last year.
From the start the Chargers flew to a 20-3 advantage. KML dominated on the boards, out rebounding Reuther 60-16.
Andrew May grabbed 7 rebounds of his own for KML, and added a game-high 18 points.
A total of six Chargers reached double-digit scoring on the night, including Solomon Zarling, who put up 14 points, 6 rebounds, and 8 assists.
KML is now through to the next round, where it will face University School of Milwaukee, who advanced on a 102-14 win over Tenor/Veritas.
The two teams met earlier this year, and the Chargers managed to escape with a narrow 67-61 victory.
The game will take place at USM on Friday night, March 3.
Photo is of Andrew May, courtesy of Diane Behm