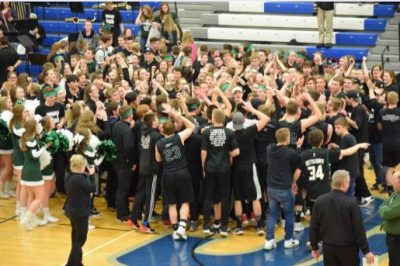 March 9, 2018 – Jackson, WI – The NCAA basketball tournament hasn't started yet, but Kettle Moraine Lutheran fans have been enjoying some March Madness of their own, advancing to the sectional final with a dramatic 48-47 victory against Dominican.
Though out sized, the Chargers were effective on the boards, out rebounding the Knights 46-39.
Zachary Zuleger was a monster on the glass, collecting 19 rebounds and putting up 16 hard-earned points in the paint.
KML stormed ahead early, but Dominican weathered the storm, heading into the break down 21-20.
The Knights and Chargers went back and forth throughout the second interval, but Dominican grabbed a 47-46 with just 11 seconds remaining in the contest.
Solomon Zarling received the pass from Grant Biesterfeld and elevated for a Jordan-esque shot from the free throw line. The shot swished through the net as time expired, sending the Chargers to the last 8 of the Division 3 tournament.
Zarling finished with a team-high 23 points as well as 9 rebounds.
Waiting for the Chargers in the sectional final is East Central Conference rival Waupun. The clash will take place at 4 p.m. Saturday, March 10 at Whitefish Bay High School.
Photo courtesy of Heidi Walz