Kettle Moraine Lutheran boys and girls teams finish in 3rd place at East Central Conference Quad. By Jacob Moeller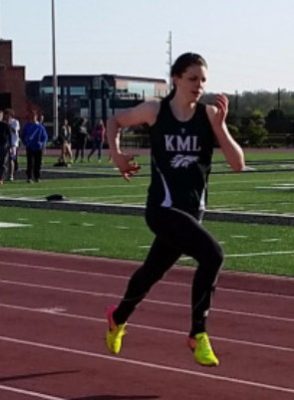 May 9, 2017 – Jackson, WI – Kettle Moraine Lutheran wrapped up its regular season with a East Central Conference quad at Plymouth on Tuesday night.
Both the boys and girls teams finished in third out of the four teams.
Bram Miller swept the throwing once again with easy wins in the shot put and the discus.
Joseph Raasch dominated the hurdles, taking both the 300 and 110 meter events. Raasch picked up a third first-place medal in the 4×200 relay along with Alex Michaelsen, Grant Biesterfeld, and Ethan Aisbet.
Michaelsen, Aisbet, and Biesterfeld combined with Brandon Ulm to take the 4×400 relay.
To sweep the sprint relays, Ulm, Michael Wagner, Jason Rose, and Riley Asen won the 4×100 with a time of 48.30 seconds.
For the girls, Kiley Hughes won the triple jump, Kiley Huckstorf took first in the 1600 meter, and Ariana Miller edged out the 400 by .11 seconds.
With the regular season now over, KML turns its sight to the conference championship at Winneconne next Tuesday.
Photo is of Ariana Miller, courtesy of Belinda Matter