Kettle Moraine Lutheran boys soccer with shutout win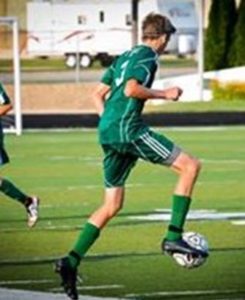 A 1-0 win over conference rivals Campbellsport gives the KML boys soccer team its fourth win out of the last five contests.
From the opening kick the Chargers were the superior team, dominating possession and creating many chances.
But the Cougar defense stood strong, turning KML away time after time to keep the scores level.
Kettle Moraine got its long-awaited breakthrough at 50 minutes, when sophomores Alec Mueller and Jake Semenske combined for an excellent shot to put the Chargers in front.
After conceding a goal, Campbellsport moved to a much more offensive style of play.
Senior forward Sonny Johnson sparked a Cougar advance in the last 10 minutes, but the Chargers held on to remain undefeated in the East Central Conference this season.
KML is back in action Friday at West Bend West, while Campbellsport will host Plymouth on Sept. 20.
Photo is of Alec Mueller, taken by Diane Behm