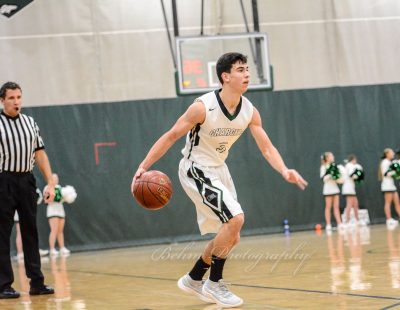 Jan. 20, 2018 – Jackson, WI – Kettle Moraine Lutheran extended its unbeaten streak in the East Central Conference play, topping Kewaskum 53-38 to move to 7-0.
Once again without Solomon Zarling due to illness, the Chargers fell behind at halftime 26-24, but the second period belonged to KML.
The Charger defense allowed just 12 points in the second half and picked up 16 steals. Grant Biesterfeld and Zach Zuleger led the way for KML, each putting in 11 points, while Brandon Heckendorf added 8.
The Chargers are back in action Saturday afternoon, squaring off with Greenfield at Brookfield Central's Luke Homan Showcase.
Photo is of Grant Biesterfeld, courtesy of Diane Behm