Kettle Moraine Lutheran Cheer wins State! | By Megan Himm
March 4, 2019 – Jackson, WI – Kettle Moraine Lutheran High School's cheer team traveled to La Crosse on March 1, to compete in the Wisconsin State Cheerleading Championship. By qualifying Friday, the team advanced to compete Saturday, where it won first place.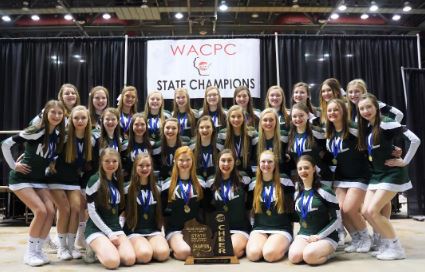 Front row (R to L): seniors Emma Holzhauer, Kelly Bramel, Miriam Helwig (captain), Clara Kugler (captain), Amanda Nank, Grace Loeffler
Middle row (R to L): Audrey Matthias, Katie Engstrom, Krista Rosine, Megan Theroux, Taylor Zirbel, Ellie Loeffler, Peyton Weber, Kristin Fuerstenberg, Haley Senfleben, Riley De Vor, Kaitlyn Sonnenberg
Back row (R to L): Taylor Kemnitz, Kellie Peterson, Emma Pagel, Maddy Knueppel, Megan Holzhauer, Adria Senfleben, Maddy Wagner, Casey Mueller, Natalie Beckwith, Julia Hilzley, Bella Gundrum
Last year the KML girls won third, and the last time the team took first place was 2015.
The Chargers competed against three teams in their division, with a total of 80 teams at the competition. Three cheerleaders, Miriam Helwig, Emma Pagel, and Peyton Weber all made it to All-State.
The team's close bond helped them secure the victory, "Cheer has impacted my life so much this last year. All the girls on the team are so incredible and are like sisters!" said Amanda Nank .
While the majority of the KML student body was not able to support the team on the days of the competition, they were able to congratulate the team on Monday during chapel.
A video of their performance was played after chapel, along with the presentation of the trophy to the athletic director, Joe Greefkes.