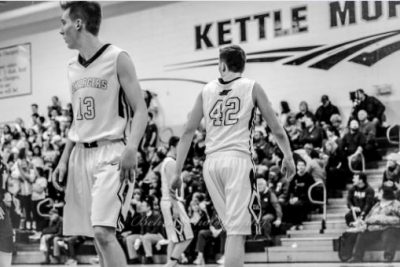 Feb. 7, 2018 – Jackson, WI – Kettle Moraine Lutheran extended its East Central Conference winning streak to 10-0 with a 58-51 victory against Ripon on Tuesday night.
Brandon Heckendorf led the Chargers with 16 points, while Jacob Stoltz and Solomon Zarling each added 12.
KML now sets its sights on a crucial conference matchup with second place Waupun.
The Warriors will be seeking revenge for a 58-51 loss on January 5, still its only defeat of the season.
The game tips off at 7:15 p.m. in Waupun.

Photo is of Solomon Zarling and Zach Zuleger, courtesy of Diane Behm.