Kettle Moraine Lutheran falls to Grafton. By Rhaea Lehman and photos by Jill Washburn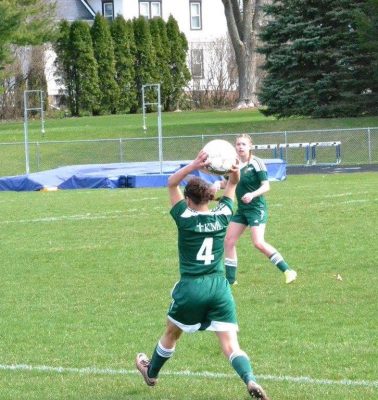 April 22, 2017 – Jackson, WI – Kettle Moraine Lutheran's girls' varsity soccer team took on the Grafton Black Hawks Friday night.
This non-conference game was originally scheduled for 7 p.m. at Grafton, but unfortunate circumstances rendered the field unplayable.
The game was moved to Kettle's field at 5 p.m.
Grafton's Gretchen Geiser scored a goal at 9:15, Hailey Block scored one goal at 11:15 and a second at 33:49, Maddie Depke scored at 16:25, Abbie Schad scored at 68:14, Laura Stockhausen scored at 85:05, and Alyssa Jobe scored at 87:39.
The final score was 7-0. Using this non-conference game to try out a few strategic player shifts, Kettle is ready to face the Waupun Warriors on April 24 at 4:45 p.m.
Photos by Jill Washburn