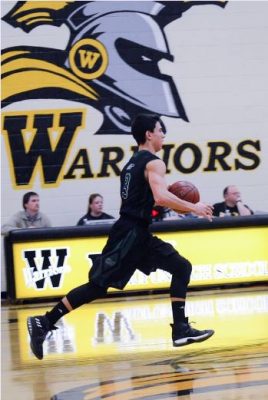 Feb. 9, 2018 – Jackson, WI – Kettle Moraine Lutheran saw its 10-game conference winning streak snapped on Thursday night, falling at the hand of the Waupun Warriors 55-49.
The Chargers trailed for most of the first half, trailing 26-25 at the break.
But they came out strong in the second frame, taking a 34-28 lead.
From there, the Warriors took over, leading by as many as 10 in the closing minutes.
A late KML surge brought the deficit to two, but the Warriors held on for the victory.
The teams now share identical 10-1 records in East Central Conference play.
KML's Solomon Zarling and Waupun's Owen Theune led all scorers with 19 points, Marcus Domask added 15 for the Warriors, and Andrew May put up 14 for the Chargers.
KML will be back in action Tuesday for another conference clash at Ripon.
Photo is of Grant Biesterfeld, courtesy Diane Behm