Jackson, WI- From March 13-15, Kettle Moraine Lutheran High School will welcome 58 student musicians from Arizona Lutheran Academy, Evergreen Lutheran High School, Fox Valley Lutheran High School, Huron Valley Lutheran High School, Luther Preparatory School, Michigan Lutheran High School, Minnesota Valley Lutheran High School, Northland Lutheran High School, and Wisconsin Lutheran High School to participate in Wisconsin Evangelical Lutheran Synod's East Regional Band Festival.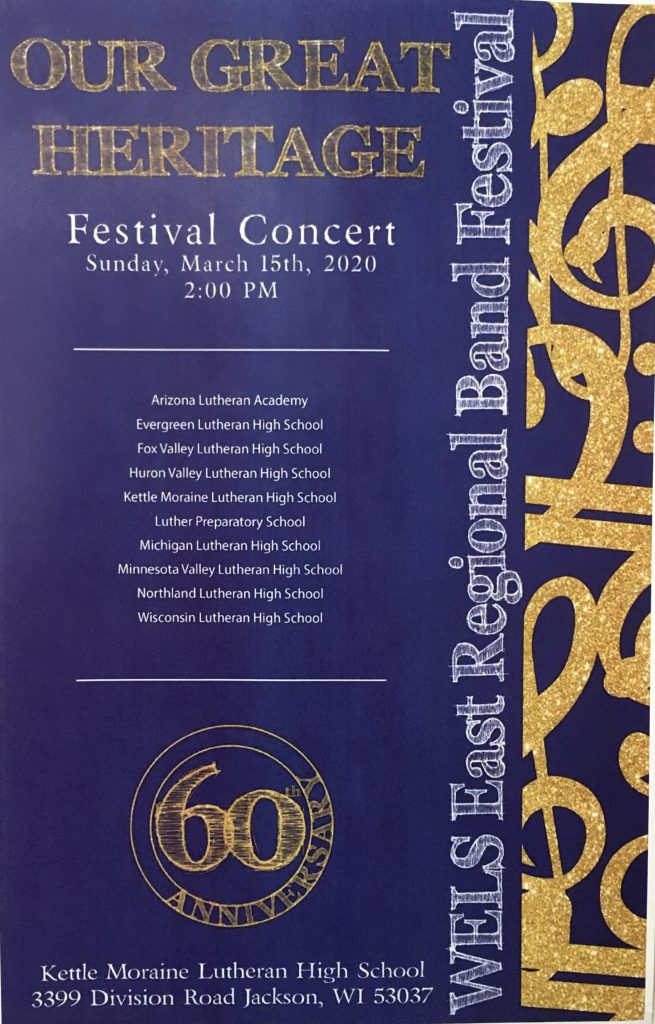 This year marks the 60th anniversary of the Band Festival and will follow the theme: "Our Great Heritage." To celebrate students will play classic band pieces, including works by Percy Grainger and Bach, and a special performance of "God's Word is Our Great Heritage."
Erin Meissner and Wes Schmandt will be the guest clinicians.
When the students are not hard at work in mass rehearsal and sectionals, they will be reading devotions, doing team building activities, and bowling. Some of the students come from small schools and do not usually have the chance to play large band pieces. As KML band director Angela Hohenstein said, "This is an opportunity for high school musicians from all over the country to come together and play beautiful music. They get to meet kids from other parts of the country and see what they have in common."
The festival at Kettle Moraine Lutheran High School will conclude with a public concert on March 15 at 2 p.m. For those who cannot attend the performance, a live stream will be offered HERE .