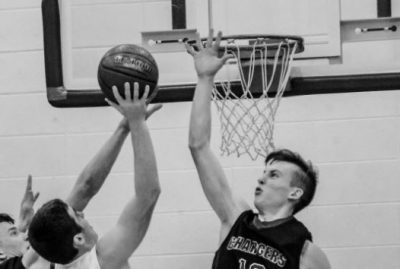 Feb. 22, 2018 – Jackson, WI – Kettle Moraine Lutheran clinched a share of its first-ever East Central Conference championship on Thursday night with a 40-36 victory at Kewaskum.
The Chargers struggled shooting, making just 1 of 11 three-point attempts but out rebounded the Indians 36-22.
Zach Zuleger led KML with 9 boards, while Solomon Zarling grabbed 5 and put up a  team-high 12 points.
The Chargers finished the regular season with a 17-5 record, including 13-1 in the ECC.
Now, KML will turn its attention to the state tournament, where the Chargers will host Cristo Rey Jesuit on Tuesday night.
Photo is of Solomon Zarling, courtesy of Diane Behm