Kettle Moraine Lutheran secures tournament championship | By Jacob Moeller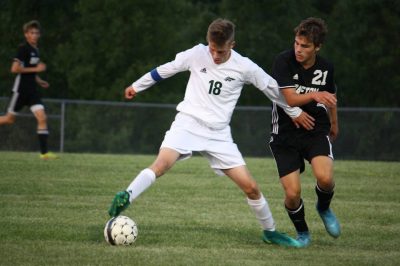 August 26, 2017 – Jackson, WI – Kettle Moraine Lutheran continued its strong start to the season with a victory in the KML Quad Saturday morning.
In the first match, the Chargers took on the Wisconsin Lutheran Vikings.  KML struck early in the first half when sophomore Aaron Weiss cleaned up a rebound, and Joseph Raasch's composed finish upped the lead to two.
A fabulous free kick with just 10 seconds left pulled Wisconsin Lutheran within one, but it was KML who would face Lakeside Lutheran in the championship game.
The final was all Chargers, as Logan Mueller, Luke Willis, and Andrew Wolff each found the back of the net in the first half to put KML up 3-0 at halftime.
Joseph Raasch and Jake Semenske added second half tallies to seal a convincing 5-0 win and the tournament championship.
With the first week of games in the book, Kettle Moraine turns its attention to Tuesday, when it will face defending East Central Conference champions Plymouth in a critical match.
Photo is of Collin Liesner, courtesy of Paula Asen.