January 17, 2020 – Jackson, WI – In a matchup between two undefeated conference leaders, the Kettle Moraine Lutheran (KML) Chargers played tough until the very end, capturing a victory against the Plymouth Panthers with an overtime buzzer-beater 68 – 66.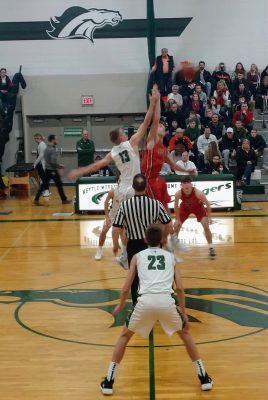 As the start of the game approached, the KML gym was getting more and more energized. Students cheered as their Charger boys ran past.
Grade schoolers joined the high school pep band to pump up the crowd with the cheerleaders. The bleachers filled up so fast that fans were left standing to the sides, still eager to see how the game would play out between the two conference rivals.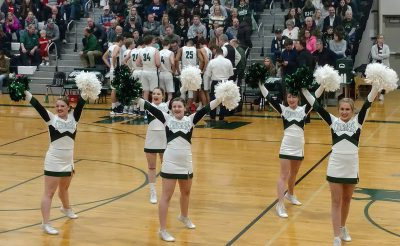 Going into the game, the Chargers were focused on defense, senior Jacob Stoltz commented, "We knew we had to play harder cause they were going to bring it."
KML Coach Joshua Lindner had similar thoughts going into the game, "just wanted to be competitive, give ourselves a chance to win at the end. And credit to Plymouth, they are obviously a very good basketball team. We just had a few shots fall for us at the end and got a few defensive stops."
The Chargers managed to get a 5-point lead going into halftime with a score of 38 – 33.
As time ran out in the second half, neither team was able to pull ahead and the game went into overtime tied, 63 – 63.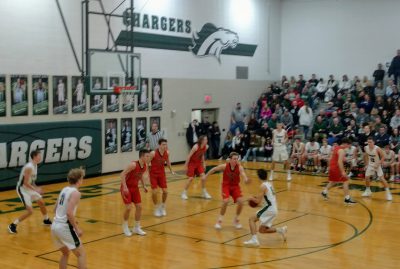 Tired from the aggressive game, the Chargers knew they could not give up now.
"I knew I had to be mentally tough and push through it all…my teammates had my back through the whole thing," Stoltz said.
Stoltz would lead KML scoring 26 points. Austin Schaff scored 17 points and Dylan Loduha scored 14 points wrapping up the top three. Austin Wagner and Cole Biesterfeld were the other two Chargers to put up points, Wagner scoring 6 and Biesterfeld scoring 5.
When asked about what this win meant for him, Stoltz said, "This is a big win for us confidence-wise moving on."
The Chargers next play January 18 at Brookfield Central High School in a tournament.