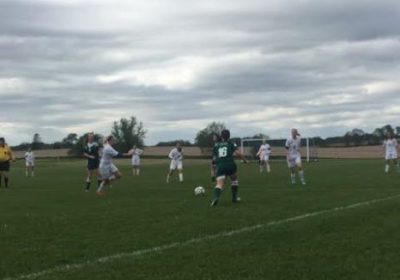 May 19, 2017 – Jackson, WI – Kettle Moraine Lutheran faced Campbellsport High School for the second time this season.
Kettle beat Campbellsport 1 – 0 in its previous game and hoped to come out strong once again.
In the beginning of the first half, sophomore defensive midfielder Abigail Washburn scored a long goal off a free kick from just inside half field. Kettle continued to push for more goals, but the next goal went to Campbellsport in the middle of the first half.
Now 1 – 1, both teams drove towards the opponent's goal with the hopes of scoring to break the tie. A handball within Kettle's goal box in the seventy-fifth minute gave Campbellsport a penalty kick. A low kick to the far right post sent the ball slamming into the back of the net for a 2 – 1 lead.
Kettle hustled harder and attempted to score some long goals, but none could connect. The final score was 2 – 1 with Campbellsport taking home the win.
Kettle is already looking toward its last home game tonight against Winneconne where they will celebrate senior night, teacher night, and host the annual Ataxia fundraiser.