Kettle Moraine Lutheran wraps up regular season with a win at Campbellsport. By Jacob Moeller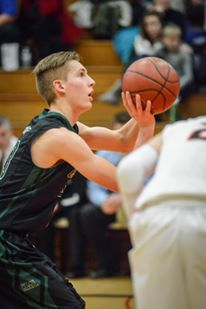 Feb. 23, 2017 – Jackson, WI – Kettle Moraine Lutheran finished its regular season on a high note, topping Campbellsport 64-61 on the road.
The Chargers had four players tally double figures in points, including Joey Behm with a team-high 15.
Solomon Zarling also contributed 8 points and 11 rebounds for KML.
Campbellsport's Koy Walsh did all he could to keep the Cougars within striking distance, scoring 23 points and grabbing 13 rebounds, both game highs.
But his efforts were not enough, and the Chargers escaped with a narrow victory.
With the regular season in the books, KML looks ahead to Kenosha Reuther in the first round of the State Tournament. The game will tip off at 7 p.m. on Tuesday, Feb. 28.
Photo of Solomon Zarling, courtesy of Diane Behm