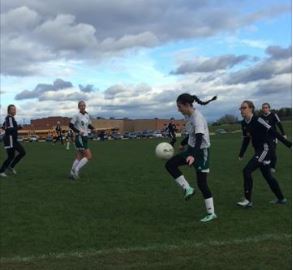 May 2, 2017 – Jackson, WI – Kettle Moraine Lutheran's varsity girls' soccer team knocked down the fierce Ripon Tigers on Tuesday.
Kettle's offense used quick and precise passing to score three goals in the first half by Abigail Washburn, Rhaea Lehman, and Meagan Haase.
Strong passes offered Kettle more chances to score and the Chargers connected four times in the second half to grow its lead over Ripon with goals by Abigail Malchow, Megan Sina, Elise Pankow and another by Washburn.
Sophomore wing, Meagan Haase said the Chargers "…communicated more, which helped facili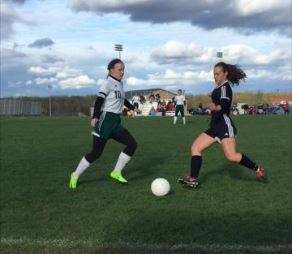 tate the win. And after such a devastating loss (at Shoreland), the team was hungry to prove that that game was just a fluke."
Kettle walked away with a 7 – 0 win over Ripon.
Kettle is looking to bring that enthusiasm to its next game on Thursday, May 3 against Berlin.