Kettle Moraine Lutheran turns in strong showing in East Central Conference relays. By Jacob Moeller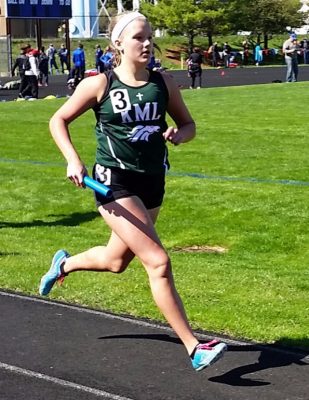 May 2, 2017 – Jackson, WI – Kettle Moraine Lutheran hosted the East Central Conference relays Tuesday night, competing against seven other schools.
The 3x 1600 relay team of Katie Miller, Naomi Gahan, and Kiley Huckstorf's placed second at 18:16.62, and the boys 4×800 of Tanner Stuck, Aaron Weiss, Micah Dykema, and Jacob Moeller grabbed a third place with a season record 8:56.91.
Also placing third was the KML girls sprint medley with a time of 2:15.19.
For full results for all schools at the meet, click here.
Next up the Chargers participate Friday in the Lutheran Invitational meet at Wisconsin Lutheran College.
Photo is of Katie Miller, courtesy Belinda Matter.