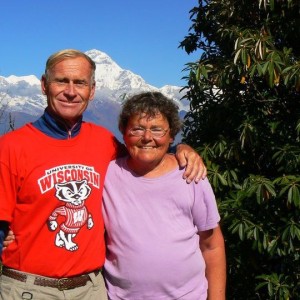 Active members. Positive attitudes. Expressive personalities. 37 years spent together. Meet Andrea and Wayne Bohlmann, very active members of the Y for 22 years. Andrea found a love for Tai Chi at River Shores and fills in as a sub. She also has Personal Training sessions with Nicola. Wayne fills in as a sub for cycling classes, when needed. They are here almost everyday and enjoy their time with other members, socializing and staying active.

Two years ago, they were on vacation and Andrea's kidneys stopped working properly.

For about one year, Andrea went to the clinic for dialysis. As it was becoming difficult to get to the clinic for many hours, they began learning how to do dialysis at home, or hemodialysis.
Wayne took on the responsibility of caring for Andrea properly at home. They are all smiles telling their stories of learning the process and learning from mistakes. It's a journey they were willing to go on, if it meant being comfortable in their own home.

Finally, in April of 2015, Wayne began testing to become a donor. While 10% of donors are spouses, he was a match. After trying many hospitals, they were turned down due to different standards for the procedure.
On January 4, 2016, they started the New Year in Illinois at the University of Chicago, IL for the transplant. Their excitement and joy for the procedure is felt. The day they were waiting for, finally arrived.
Congratulations on a happy ending to this long awaited transplant! 

Photo courtesy Andrea Bohlmann