It is Catholic Schools Week and the parochial schools across West Bend, Kewaskum, Newburg, Slinger and the rest of Washington County are celebrating a faith-based education.
Some of the events on tap the next few days:
At St. Mary's in Barton students and staff will participate in in a Candlemas at 8:35 a.m. today and then watch Inside Out in the afternoon
Wednesday: 1:00 PM Combined Mass with Holy Angels and St. Frances Cabrini at Cabrini with blessing of throats for St. Blase
Thursday: Crazy Hat and/or Socks and bowling at King Pin
Friday: Talent Show for grades 1-8 and Grandparents Day for K3-K5 both in afternoon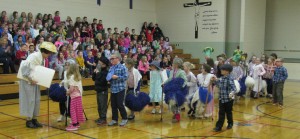 At Holy Angels students wil
l celebrate many of the important aspects of the school which make it special…academics, faith formation, extra-curriculars, community building, family involvement. 
The week's activities will include:
Tuesday – All-School Special Assembly: Wiscon-sing with David HB Drake
Wednesday – Area Celebration Mass at Cabrini
Thursday – Service Day with Buddies
Friday – Student/Faculty Basketball Game (1:40pm)