Kewaskum Indians improve to 5 – 0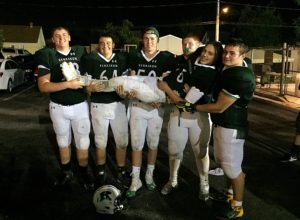 Kewaskum wins 49-20 over Waupun and improves to 5-0 on the season.
Scores happened from 3 passing touchdowns:
Poole  52 yard to Hanson, 32 yard to Hanson and 16 yard TD to Steger.
A rushing TD of 12 yards from Surprenant and two short "Kuhn like" now known as "Krier like" TDs for Krier.
Defensive plays came from Strom with a fumble recovery and Hiltunen with an interception.
Photo is Kewaskum QB and Offensive Line
In other scores:
– Slinger beat West Bend East 24 – 21.  Hat tip Ron Naab