Kick up your heels for a day full of Polka at GERMANfest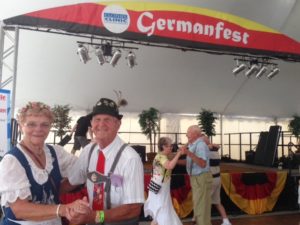 August 25, 2017 – West Bend, WI – There will be plenty of oom-pah-pah under the big white tent at GERMANfest today.
On a history note….
The AlteKamaraden band from Freistadt was the first group to play at Germanfest in 1986. Their stage was the street corner in front of Fields Furniture and Mike & Pat's Bar. There was a small, rented yellow and white tent; the VFW Club and Jaycees sold food and beer and the Parks Department set up picnic tables in the street.
Bands over the years have included Normie Doggs, Jerry Schneider Band, River City Irregulars, The Dorf Kapelle, and The Johnny Hoffmann Band to name a few.
"We saw Jimmy Sturr was going to play in Antigo and I went over to him after his performance and asked him if he'd like to perform in West Bend's Germanfest and he gave me a card and a recording and he said he was all booked and then he finally said he'd come to West Bend. He was playing in Milwaukee and after that he said he'd be there." Herb Tennies
"It costs us $3,000 to have someone from Germany come and it cost $18,000 to $20,000 to get Jimmy Sturr." Herb Tennies
"We talked to a yodeler in Milwaukee and he couldn't speak any English
so somebody had to translate."  Herb Tennies
"We started building the stage in our driveway," Suzanne Tennies about the stage built in 1989
"I kinda liked the Music Connection but my favorite was always Peter and Paul Wendinger – that was my cup of tea." Bill Lutz
"Friday night when Jimmy Sturr had everybody doing the Y-M-C-A, all the bartenders were doing the Y-M-C-A."  Peggy Fisher
The music lineup for this weekend is below.
Friday, August 25
The Cedar Lake Singers kick things off at 10 a.m.
Carol & The Keynotes 11:00 AM – 1:00 PM
Barefoot Becky & The Ivanhoe Dutchman 1:00 – 2:00 PM
Carol & The Keynotes 2:00 – 3:00 PM
Barefoot Becky & The Ivanhoe Dutchman 3:00 – 5:00 PM
Squeezebox Ted Lange and Mollie B 5:00 – 6:00 PM
Goodtime Dutchman 6:00 – 7:00 PM
Squeezebox Ted Lange and Mollie B 7:00 – 8:00 PM
Goodtime Dutchman 8:00 – 9:00 PM
Squeezebox Ted Lange and Mollie B 9:00 – 10:00 PM
Goodtime Dutchman 10:00 – 11:00 PM
Saturday, August 26
Pommersche Tanzdeel Freistadt 10:00 AM – 11:00 AM
Barefoot Becky & The Ivanhoe Dutchman 11:00 AM – 2:00 PM
The Music Connection 2:00 PM – 3:30 PM
Box On 3:30 PM – 5:00 PM
Music Connection 5:00 – 6:30 PM
Box On 6:30 – 8:00 PM
The Playlist (Rabid Aardvarks) 8:00 PM – 11:00 PM
Sunday, August 27
River City Blaskapelle 11:00 – 1:00 PM
Box-On 1:00 – 2:00 PM
Jeff Winard 2:00 – 3:00 PM
Box-On 3:00 – 4:00 PM
Jeff Winard 4:00 – 5:00 PM
Box On 5:00 – 6:00 PM
Jeff Winard 6:00 – 7:00 PM