Kiwanis Early Risers Free Fishing Clinic today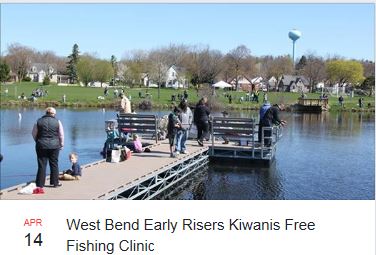 April 14, 2018 – West Bend, WI – The West Bend Early-Risers Kiwanis is holding a free kids fishing clinic Saturday, April 14 from 9 a.m. – 3 p.m.
Free fishing clinics for youth 15 years old and under. Learn about fishing techniques and equipment, knot tying, water safety, casting and more. Hourly door prizes and free gifts when attending the clinics. Free food and refreshments.
Clinics hosted by members of Trout Unlimited and Learn 2 Fish With Us.