KML varsity soccer scores a shutout victory vs. Waupun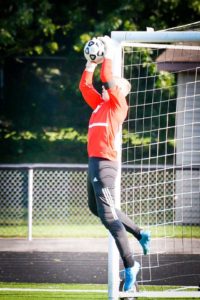 Kettle Moraine Lutheran varsity soccer team added its second win in conference play on Thursday, rolling past Waupun 3-0.
From the opening kick it was clear the Chargers were in control, possessing the ball deep into the opponent's' end and creating several opportunities.
KML finally broke through the Warrior defense in the fifteenth minute, when junior Joseph Raasch hammered in a penalty kick.
The strike was Raasch's fourth goal in just three conference matches this season.
Nine minutes later the Chargers found the back of the net again as forward Joshua Pahmeier broke free from his defender and finished a close-range shot.
Sophomore Jake Semenske added the final goal at the hour mark, his second in as many games.
With the win the Chargers move to 2-0-1 in East Central Conference play, while Waupun falls to 0-0-3.
KML faces its biggest test of this young season on September 8, when it hosts defending ECC champion Plymouth for the first home game of the season.  
Photo courtesy Diane Behm.