West Girls Tennis finishes road swing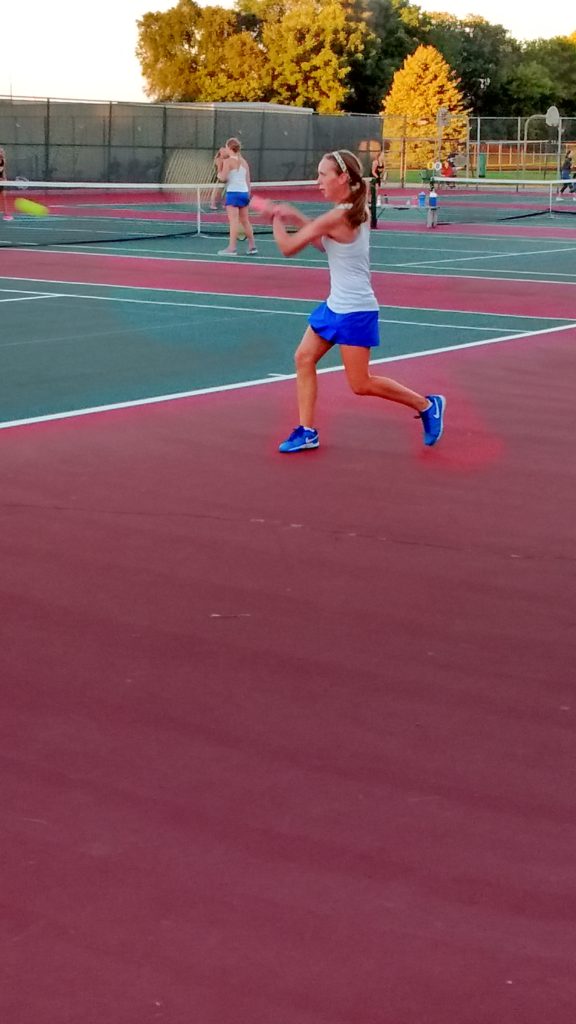 The West Bend West girls tennis team (5-3) won its conference opener against Slinger before dropping two competitive matches against Cedarburg and Beaver Dam.  Winning two matches on the week were Brianna Bembenek, MaKayla Schlass, Liesel Myers and the doubles tandem of Katie Hayes and Katie Espen.
Pictured:  Brianna Bembenek, 1 singles.

WEST BEND WEST HIGH 6, SLINGER HIGH 1
Singles
No. 1 — Brianna Bembenek, WEST HIGH, def. Victoria Volkmann, 6-0, 6-0; No. 2 — MaKayla Schlass, WEST HIGH, def. Elly Johnson, 6-1, 6-1; No. 3 — Jessi Lambo, SLINGER HIGH, def. Emily Breckenridge, 4-6, 6-2, 6-2; No. 4 — Liesel Myers, WEST HIGH, def. Macy Ragsdale, 6-2, 6-3;
Doubles
No. 1 — Elizabeth Hilgendorf-Kelsey Nowack, WEST HIGH, def. Joanna Fox-Kaitlyn Loff, 6-1, 6-3; No. 2 — Katie Hayes-Katie Espen, WEST HIGH, def. Jane Schaub-Anna Richardson, 6-3, 6-3; No. 3 — Claire Tennies-Cassidy Chemer, WEST HIGH, def. Maggie Aumann-Natalie Jaskolski, 6-1, 6-4;
CEDARBURG HIGH 5, WEST BEND WEST HIGH 2
Singles
No. 1 — Brianna Bembenek, WEST HIGH, def. Willow Larson, 6-0, 6-0; No. 2 — MaKayla Schlass, WEST HIGH, def. Peyton Farley, 2-6, 6-0, 2-0; No. 3 — Allison Jeske, CEDARBURG HIGH, def. Emily Breckenridge, 6-2, 6-0; No. 4 — Mia Andrae, CEDARBURG HIGH, def. Ellie Graven, 6-0, 6-0;
Doubles
No. 1 — Amanda Skonieczny-Hailey Haws, CEDARBURG HIGH, def. Kelsey Nowack-Elizabeth Hilgendorf, 6-3, 6-1; No. 2 — Margot Henke-Marquerite Manning, CEDARBURG HIGH, def. Katie Hayes-Katie Espen, 6-1, 6-1; No. 3 — Sydney Weise-Claire Cummings, CEDARBURG HIGH, def. Claire Tennies-Cassidy Chemer, 6-4, 6-0;
BEAVER DAM HIGH 5, WEST BEND WEST HIGH 2
Singles
No. 1 — Morgan Nelson, BEAVER DAM HIGH, def. Brianna Bembenek, 7-6 (5), 5-7, 7-6 (4); No. 2 — Alexa Brooks, BEAVER DAM HIGH, def. MaKayla Schlass, 6-4, 6-2; No. 3 — Evie Chitko, BEAVER DAM HIGH, def. Emily Breckenridge, 7-6 (6), 7-5; No. 4 — Liesel Myers, WEST HIGH, def. Tara Wanie, 6-1, 6-1;
Doubles
No. 1 — Cassidy Trotter-Abby Kiesow, BEAVER DAM HIGH, def. Kelsey Nowack-Elizabeth Hilgendorf, 7-5, 6-4; No. 2 — Katie Hayes-Katie Espen, WEST HIGH, def. Ashley Saniter-Maddie Biel, 5-7, 6-3, 6-4; No. 3 — Olivia Zuhlke-Kristi Bird, BEAVER DAM HIGH, def. Cassidy Chemer-Claire Tennies, 6-2, 7-6 (6);