Korean Veteran Erwin Wergin of West Bend on April 6 Honor Flight | By Megan Himm
March 22, 2019 – West Bend, WI – Erwin Wergin, 87, sits in his recliner with his legs crossed, in his condo which could best be described as 'homey.'
A puzzle is half done on the nearby table and pictures of children and grandchildren hang on the walls.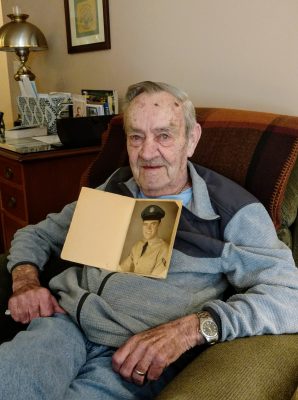 Wergin's wife of 61 years sits across from him on a couch as the Korean War Veteran talks about his upcoming trip, Saturday, April 6, on the Stars & Stripes Honor Flight.
"I enlisted in the United States Air Force on November 23, 1951," said Wergin. "I was 20 years old."
Erwin Wergin grew up in a big family, with four brothers and four sisters. All of his brothers were in the military, and his older brother inspired him to join. "I knew the draft was coming, and my older brother told me to," he said.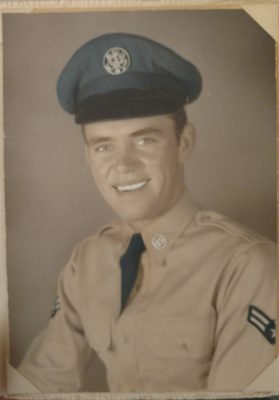 Wergin attended basic training in San Antonio, Texas. After completion of basic he was flown to Illinois in a B-47 bomber.
He flew the B-57 until 1953, when he was moved to Luke Air Force Base in Arizona. There he flew an F-86.
His final station was at Laughlin Air Force Base, in Del Rio Texas, as the Korean War came to a close. While there, he was on F-80s, F-84s, and T-33s.
As Wergin's four years in the military ended he was asked to re-enlist, with a bonus of $1,000.
Wergin declined and was discharged on November 24, 1955, as a Sergeant.
After discharge, he recalls hitchhiking to get home. "I was in Illinois and I lived in Milwaukee at the time," he said.
Wergin spent the next four years in the reserves, then spent time welding, until he got into the plumbing business, where we spent the next 30 years.
Wergin chose his son, Randy, to be his guardian on the Honor Flight.
Randy was in the Marines and served all over the world.
This will be the first time for Wergin and his son visiting Washington D.C.
While both are excited about the trip, Erwin is most looking forward to the Korean War Veterans Memorial.
Click HERE to read more stories about the 15 veterans from Washington County scheduled to depart on the upcoming Stars & Stripes Honor Flight.