Dec. 4, 2017 – West Bend, WI – Warm temperatures helped draw a large crowd Sunday for the 3rd annual Husar's Diamond Dash to benefit Enchantment in the Park.
The 3.1-mile course was swift as dry conditions made for a perfect loop through the light display at Enchantment in the Park.  Click HERE to see the final results.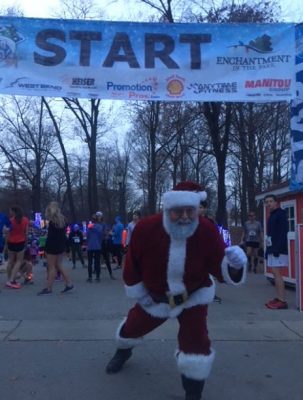 First place went to Eric Bilitz, 22, from Fond du Lac who crossed the finish in 16 minutes and 30 seconds. That was 25 seconds faster than the 2016 winner.
Kimberly Hurst, 21, of Greenfield was the first woman across the finish with a time of 18:01.  Both first-place winners went home with a $500 Husar's watch.