Lenten Ecumenical Prayer Service starts March 3 at West Bend area churches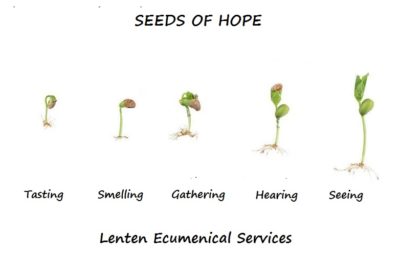 March 5, 2017 – West Bend, WI – West Bend area Churches will be hosting a Lenten Ecumenical Prayer Service over the Wednesday noon hour.   Each service will last from 12:15 p.m. to about 12:45 p.m.
The  theme this year is about Seeds of Hope found within Sacred Scriptures and our lives.
Here is the schedule for services:
March 8  Trinity Lutheran Church – Rev. Clarissa Martinelli speaker
March 15 Cedar Ridge—Jill Maria Murdy speaker
March 22 Saint Frances Cabrini Parish –Rev. Kathryn Kuhn
March 29  Saint James Episcopal Church – Rev. Shoob
April 4  Fifth Avenue Methodist Church – Mother Mindy Davis (soup lunch to follow)
A free will offering will be taken for a local charity to be announced.