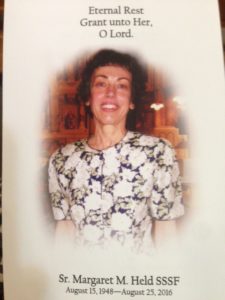 There was a lot of lively chatter, good wishes and a few tears Thursday evening as friends, neighbors and strangers gathered at Resurrection Catholic Church in Allenton for a memorial Mass for Sister Margaret Held.
Rev. Rick Stoffel from St. Peter Church in Slinger presided over the service.
There was a simple display to Sr. Margaret at the front of the church as a spray of small red roses and green fronds were placed in a rich blue vase on a table at the foot of the altar and a brilliant collection of colorful hyacinth was next to a large picture of a smiling Sister Margaret Held.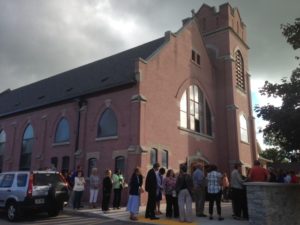 Hours prior to the start of the service a line wrapped around the church, many people offered condolences and comments of how they were inspired by Sr. Margaret.
"We did not know the family until we heard the news," said Alan Grimm from Slinger. "I'm a great admirer of what these ladies were doing but saddened with these events."
There were messages of forgiveness and acceptance throughout the Mass. The opening hymn, Canticle of Sun, included the words, "Praise for our death that makes our life real, the knowledge of loss that helps us to feel; the gift of yourself, your presence revealed to bring us home."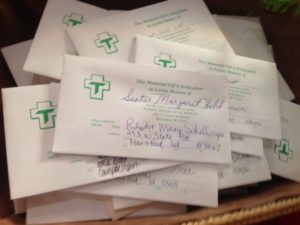 The message from the second reading, Romans 14:7-9, echoed the theme of the Mass.  "No one lives for one's self and no one dies for one's self."
During the homily, surrounded by the whirring hum of large fans, Rev. Stoffel told the gathering, "It is not important how Margaret Held died it's how she lived."
"Sister Margaret knew her life was in the hands of God even when there would be changes of direction," he said. "Fear would be foolish and faith would be wise."
Dressed in a white robe with a pattern of gold inlay, Rev. Stoffel worked his way down the aisle and spoke of how Sister Margaret "found her niche where she was needed the most."
"Only by mercy it is not so much how she died it's important how she lived and to tell one another so we're more than just about ourselves," Stoffel said.
Sr. Margaret Held, SSSF joined her Lord on Aug. 25, 2016 in Durant, MS at the age of 68, along with her beloved friend, Sr. Paula Merrill. She was born and raised in Slinger.