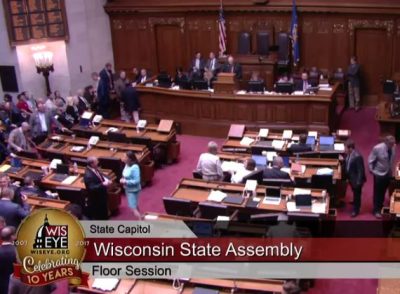 Click HERE to watch live broadcast on Wisconsin Eye of Dr. Tom Albiero D.D.S. of West Bend receive the Hometown Hero award in Madison.  Click Assembly Floor Session
May 10, 2017 – West Bend, WI – The Wisconsin State Assembly will award Dr. Tom Albiero D.D.S. of West Bend the Hometown Hero award on Wednesday, May 10, 2017 at 1 p.m. on the floor of the State Assembly.
For many years Dr. Albiero volunteered at free dental clinics around the state and decided he wanted to make a difference in his own community.
Thanks to his first-hand commitment, countless volunteer hours and many friends within the dental community, he has delivered much-needed dental care at the Albrecht Free Clinic.
"I look forward to presenting the award to Dr. Albiero," said Rep. Bob Gannon. "It will be a great pleasure to honor the doctor's good work and recognize all he has done for the residents of Washington County."
One of the greatest unmet health care needs of Washington County was dental care for those living at or below the poverty level.
Unfortunately, few dentists accept Medicaid and many families struggle to make ends meet leaving them to decide between buying shoes for their child or having their teeth cleaned.
Since the dental clinic's inception in 2016, over 830 dental visits have been provided to financially eligible residents of Washington County.
Dr. Albiero is a member of the Albrecht Free Clinic Board of Directors, he serves as Director of Dental services, and he is a lifelong resident of the area.
The Albrecht Free Clinic, located in West Bend, provides free medical and dental care to uninsured and under-insured residents of Washington County.
The Hometown Heroes program recognizes individuals whose care and concern for others motivates them to unconditionally intervene, guide or lend a hand wherever needed.
Broadcast is courtesy wiseye.org