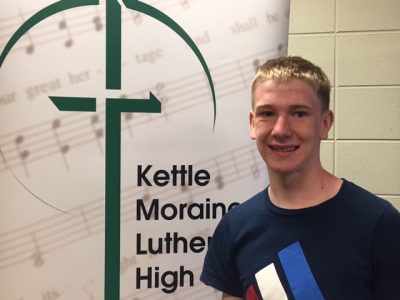 May 10, 2017 – Jackson, WI – Kettle Moraine Lutheran High School junior Jacob Moeller will have quite the summer experience as he was just notified he will be part of the media covering the U.S. Open.
Moeller is a student reporter for WashingtonCountyInsider.com
This year he has covered the sports scene at KML reporting on boys basketball, soccer and cross country.  Moeller is a strong writer whose story content makes you feel like you're on the sideline. He turns in assignments on deadline and manages to juggle a busy schedule with school, sports, work and his commitment to his faith.
Watch for stories and video updates from Moeller during the U.S. Open coming to Erin Hills, June 12 – 18 on WashingtonCountyInsider.com
On a side note: Jacob is a real pleasure to have in class. He is respectful and this semester he is helping mentor other students whose stories are also published on WashingtonCountyInsider.com
Jacob is growing a great portfolio of articles and covering the U.S. Open will really look great on a resume.
Congratulations Jacob!
If you are a student who would like to write for WashingtonCountyInsider.com contact Judy Steffes at 262-334-4526 or email  [email protected]