West Bend, WI – Many in the community are familiar with the iconic WEST BEND sign that shines brightly over Downtown West Bend, but not everyone knows there's a nonprofit group that has restored the historic theater and made the space into so much more than a movie theater.
The Historic West Bend Theatre, Inc. (HWBT, 501(c)3), otherwise known as The Bend, is an experience venue that now hosts live music, comedy, theater and, of course, movies.
The organization is bringing live original music to West Bend this Friday, October 22 with Nashville artists Okey Dokey and opening act Gatlin. These indie folks flow from squishy funk to swelling folk rock, to cosmic orchestral pop and everywhere in between. Their latest record features contributions from Dave Harrington (Darkside), Grizzly Bear's Chris Taylor, and members of My Morning Jacket and the Shins. Opening act Gatlin gives us some serious Taylor Swift vibes. So all in all, you're in for an incredible night of music for just $10.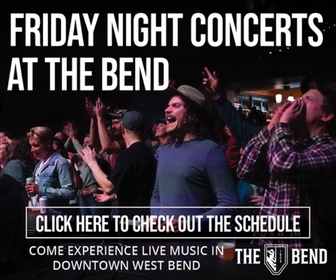 Then on Friday, October 29, Ben Harold & The Rising and Zach Pietrini (featuring McKenna Bray) will be taking to The Bend's historic stage. Both Ben and Zach were among the first Wisconsin performers to bring their sounds to West Bend during the "limited capacity" days of 2020. Both are bringing their full bands (and a very special guest in McKenna Bray) this time for a double dip of amazing music inside The Bend.
To really get into the Halloween spirit, this is going to be a COSTUME CONCERT. Costumes are encouraged and The Bend will be awarding prizes for best costumes.
Two Fridays in a row of original music in Downtown West Bend is pretty impressive and The Bend is doing a great job of putting West Bend on the map as a music destination.
Get your tickets today at www.thebendwi.org