Long time local business leader in West Bend has died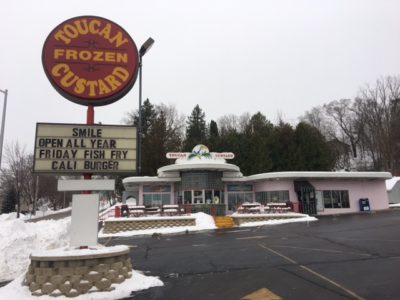 Dec. 23, 2016 – West Bend, WI – It's with a heavy heart to pass along the news Al Moehr, long-time owner of Toucan Custard has died.
Moehr owned the business with his wife Debby since around 1992 when he bought it from his brother Dennis.
"Dennis owned it in 1989 and he bought it from us," said Larry Porter.
Porter said when he and his wife Chris started the business with Bob Sivilotti that lot on Main Street was nothing but a vacant lot.
"We opened it in 1985 and called it Toucan," Porter said. "The name just sounded like the antithesis of what you'd expect for a tropical frozen custard joint."
Porter recalled how they named the sundaes for tropical birds. "The turtle sundae was named a hawksbill because that's a tropical sea turtle and the raspberry sundae was a kookaburra because that's the one that was always giving you the raspberries."
Porter had high praise for Moehr, his energy and commitment to the community. "If you didn't know Al he was one of the most dynamic people I ever met in my life," Porter said.  "He had so much energy and vim and vigor and I met him in Kiwanis Early Risers and whenever there was something to be done Al would do it. He was just a dynamo and a wonderful guy."
A strong Republican in West Bend, Moehr was foremost a supporter of the community. "He was a major backer of mine and every time I ran for office he'd put my banner out front on the railing," said card carrying Democrat Tom O'Meara III.
"He was a dear, dear fellow even though we were almost opposite ends of the political spectrum," said O'Meara.  "He was beyond a Tea Partier; we respected each other, liked each other, never got angry even when talking politics."
Glenn Peterson remembered Moehr as a frequent customer. "When I owned that tiny Glenn's Grill on N. Main Street Al was always a customer, especially when he worked for the telephone company," Peterson said.  "Al was a small guy, thin and very, very nice."
Reflecting on the history of Toucan, Peterson said the location was previously a car lot. "Harry Schremmer bought the Boltz Cadillac and Pontiac dealership, where the vet clinic is now. He bought that car dealership from Lauri Boltz and he parked his cars over there where Toucan is now.
Prior to that Peterson remembered a house on the property. "I think the Troedels lived there," he said.
Bob Bonenfant knew Moehr for a long time. "He was really a local guy and very political but he loved his business," he said. "His kids were raised in that business and now they're working in there."
Moehr is also being remembered as a strong family man.
"Just really cared about the kids," O'Meara said. "He was willing to take 'bad kids' in and teach them some business sense."
Take a look at the interior of Toucans and you'll see Moehr's commitment to the Kiwanis Early Risers and its annual Fourth of July Duck Derby.
"He always one of the biggest sellers of ducks for the derby," said O'Meara.
Bonenfant agreed. "He was one of the big promoters of the Duck Derby and you could buy your ducks from there," he said.
"He was just a super nice guy," said Peggy Fischer, owner Shooting Star Travel. "He was really fun and he was really involved in the community."
Details on funeral services will be posted as soon as information becomes available.
Photo courtesy Toucan Custard.