Germantown, WI – The Deutschstadt Heritage Foundation is excited to have Maifest, the traditional German celebration of spring, return to Germantown in 2023. The 2023 celebration will be held at Germantown Marketplace Shopping Center, N112 W16560 Mequon Rd. (corner of Mequon Rd. & Squire Dr.) on May 19, 20 and 21.
The community celebration opens at 5 p.m. Friday night with German music and delicious food including a fish fry. Bella Cain, the hottest "Top 40 Country Group" will be taking the
stage at 8 p.m.
Saturday the celebration continues from 11 a.m. to midnight with food, German beer, music, dancing, and a Sheepshead tournament. Our Saturday opening ceremonies begin at
11:30 a.m. and feature our Maifest Burgermeister, the crowning of our Maifest Queen and the DANK dancers performing the traditional Maipole dance. The Sheepshead tournament runs from noon to 5 p.m.; music by Ed Wagner's Lustige Blaskapelle at noon, the River City
Blaskapelle at 5 p.m. and Alpine Blast from 8 p.m. – 11:30 p.m.
The celebration will continue Sunday from noon to 8 p.m. with dancing by the
Pommersche Tanzdeel Freistadt dancers, and music by Edelweiss and the Kenny Brandt
Band.
The weekend will be full of fun and Gemütlichkeit for people of all ages. More information
regarding the event can be found HERE.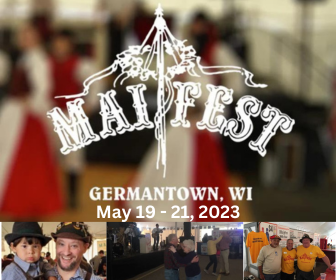 The event is family-friendly and free of charge, other than Friday night beginning at 6:30
p.m. when a $10 cover charge will be in place. There is NO CHARGE for admission for the
remainder of the festival.
Maifest is sponsored by the Deutschstadt Heritage Foundation, a 501(c)3 non-profit
foundation. The Deutschstadt Heritage Foundation was founded in 1988. All members of
the Deutschstadt Heritage Foundation are volunteers. All proceeds from this annual
Maifest celebration are invested back into the community to various charitable events
and organizations.