Manitou Group donates a boat trailer to the Washington County Dive Team | By Washington County Sheriff's Office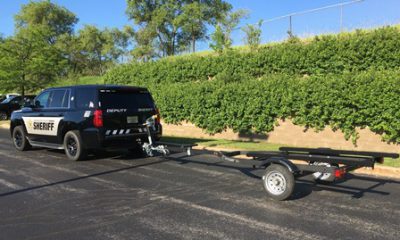 July 16, 2019 – Washington County, WI –  On July 2, 2019, the Washington County Dive Team took delivery of a boat trailer donated by the Manitou Group.
Sheriff Martin Schulteis stated of the donation, "We want to take this opportunity to publicly thank Manitou Group for their generous donation to Washington County residents.  This equipment will respond to water rescue incidents throughout the county. Having such outstanding community partners such as Manitou Group demonstrates their commitment to our community."
Currently the dive team owns two Mercury Marine inflatable boats. One boat is kept at the Sheriff's Office and the other is kept at the West Bend Fire Department. Both boats were purchased around 2005. At the time of the purchase of the boats ATV trailers were purchased to transport and store the boats.  Due to the trailers not being designed to be used in this fashion the trailers have deteriorated and are showing their age. This new trailer will replace one of the current trailers.
Since the original purchase in 2005 the boating industry has improved the design and commonly sells trailers made exclusively for inflatable boats. The new trailers support the boat's weight evenly along the hull, keel, and transom. This design extends the life of the boat. The trailers are made from materials designed not to damage the boat while in storage or while loading and unloading the boat.
Currently the Washington County Dive Team consist of 32 volunteer divers from 4 fire departments and the Sheriff's Office. Equipment for the team is stored at the 4 station houses of the fire departments and the Sheriff's Office. The majority of Washington County Dive Team funding comes from an annual bowling / raffle fund raiser held in March.
The Manitou Group is a global construction and agriculture equipment manufacturer with a regional headquarters in West Bend.