February 15, 2021 – West Bend, WI – Margaret Mary "Marge" Behlen, nee Scanlon, passed away peacefully on February 7, 2021 at the age of 99.  She was born to Patrick and Josephine (Nelezen) Scanlon on January 13, 1922 in the Town of Granville, Milwaukee, Wisconsin.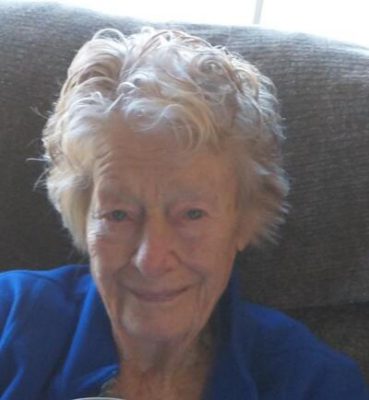 A loving and devoted mother of seven, she is survived by her children Michael (Cindy) Behlen of Grafton, Barbara (Karl) Wise of Chippewa Falls, Phyllis Behlen (Gary Schick) of Greenwich, CT, Judy Behlen (the late Gordie Mineau, Sr.) of Hartford, Gerard (Sandy) Behlen of Fredonia, Betsy (Floyd) Rettler of Campbellsport, and Christopher Behlen of West Bend.   Also surviving are her sister Nellie (Miles) Dake of Waukesha, 12 grandchildren, 23 great-grandchildren and many loving nieces, nephews and friends.
She was preceded in death by her parents, her husband Maurice Behlen of 56 years, an infant son Joseph, one brother and four sisters.
After graduation from Holy Angels Academy, she went on to complete nurses training at Milwaukee County General Hospital and then enlisted in the Army at age 22.  She served in the Army Nurse Corps during WWII in England, France and the United States.  After her honorable discharge she returned to Wisconsin and later married Maurice Behlen in November of 1947.  Together they raised seven children.
While balancing family obligations with her nursing career and civic activism, she worked at St. Joseph's Community Hospital in West Bend, Hartford Memorial Hospital and the Mental Health Center. Marge also served on the West Bend Council for Alcoholism and was a member of the CSA board.
She was a Trenton Town Board supervisor, a member of the land use commission and for many years was a township poll worker.  A tireless advocate for women's issues, she was a founding member of Friends of Abused Families back in 1978 (now Friends, Inc.) and she organized and facilitated a number of groups that provided support to victims of domestic abuse and for women whose lives were affected by alcoholism.
She regularly attended her church, Jesus Our Savior in Kohlsville. For over 20 years she was involved in peace issues and was an active participant with Veterans for Peace and Peace Seekers of Washington County.
For many years she was honored in parades as a WWII veteran.  When the opportunity presented itself, she participated in a Stars and Stripes Honor Flight to Washington D.C. accompanied by her son Chris, in September of 2015.
An unforgettable experience for both of them, that trip led to requests on multiple occasions for interviews about her experiences during the war. She was always happy to oblige with her responses recorded and published in the West Bend Daily News.
Never losing her appetite for learning, she took every opportunity to continue her education.  After Marge and Maurice retired, they partook of many offerings with Elder Hostel meeting new friends along the way.  She took courses in philosophy at UW-WC and a class in creative writing.
Marge completed a course in comedy at Cardinal Stritch College, becoming the oldest student in that class at age 76.  She always delighted in making people laugh with her funny stories (some of them true) and telling many jokes.  There was rarely a subject that did not remind her of yet another joke.  When asked to, she "performed" for small groups at churches, nursing homes and other venues as a stand-up comic and delighted in telling about her "gigs."
One time when her back bothered her and she had to sit down, Marge even laughed about being called a "sit-down comic."
Travel was a passion she shared with Maurice and after they both retired, they visited most of the states especially loving Alaska. Over the years they enjoyed tours to Mexico, Nova Scotia, Moscow, Europe, Egypt, China, and Israel.  After Maurice passed away Marge traveled to Ireland with one of her sisters and a niece.
Physically active all her life, she and Maurice loved biking and snowshoeing, and took up cross country skiing in their later years. At family gatherings and events, she would join in to play softball, shoot some hoops or play bean bag toss.
At the age of 80 on a trip to Colorado with two daughters, she took downhill ski lessons and was truly an inspiration to the much younger students in the class.  Hobbies and interests included being a voracious reader, knitting, fishing, camping, gardening and playing cards during family events (in particular sheepshead and cribbage) as well as weekly card clubs for years.
There was more Marge wanted to do, "so many causes, so little time" being her motto, but now after an amazing life, it is time for her well-deserved rest.   Her loving smile and never-ending good humor will especially be missed by her family and the many friends whose lives she touched.
The family thanks Dr. Steven Holcomb for his attentive care over the years and recently for the loving care provided at Aurora Medical Center, Hope Health Rehab in Lomira, Newcastle Place in Mequon and Horizon Hospice/ Lawlis Hospice at St. Mary's in Mequon.
A memorial service for immediate family will be held in the spring with arrangements by Schmidt Funeral Home in West Bend.  For those who would like to attend, it will be livestreamed to the funeral home's Facebook page on Saturday, May 8 at 11 a.m.  A Celebration of her Life will be announced later.
Memorial donations in her memory can be made to Friends, Inc. in West Bend, Family Promise of Washington County or the local veterans' organizations in which she was a member.
The Schmidt Funeral Home of West Bend is serving the family.  Messages of comfort and condolence may be left in an online guestbook at www.schmidtfuneralhome.com