October 26, 2021 – West Bend, WI – Margaret C. "Muggie" Borchardt, 100, of West Bend was called home to be with the Lord on October 25, 2021.
Margaret was born on August 23, 1921 in Milwaukee to Peter and Christine Borchardt (nee Schoch).
Margaret graduated Riverside High School in Milwaukee.  She honorably served in the United States Army as a medic.  Margaret was also in the Army Reserves for 20 years.  She was a member of the Catholic Daughters of America, and American Legion Women's Post No. 448 in Milwaukee.  Margaret was the oldest living World War II Veteran in Washington County at the time of her death.
Margaret was as know as "Aunt Muggie" to her dear nieces.  She traveled all over the United States with her nieces, as well as overseas.  Margaret worked for the City of Milwaukee in the Water Department and retired in 1986.  She was a long-time member at Holy Angels Catholic Church in West Bend.
Those Margaret leaves behind to cherish her memory include her three nieces; Sandra (James) Balistriere, Geraldine Arlt, and Rose Marie (Robert) Rogge; great-nieces and nephews, Lisa (Gerald), Dawn (Damien), Tina (Gerald), Steven, Daniel (Zara); great-great nieces and nephews, Emily Rose, Elizabeth, Alexis, Amanda, Angela, Jacob, Austin, Taylor, Caitlyn, and Rowan.  She is further survived by great-great-great nephew, Elijah; Special Sunday Companion, Irene Kaminski; and other relatives and friends.
In addition to her parents, Margaret was preceded in death by her two sisters, Dorothy (Fred) and Jane; brother, Francis (Rose) Borchardt; great-nephews, Andrew and Anthony; and a great-great nephew, Alex.
Click HERE for a feature story on Margaret Borchardt turning 100 years old
Mass of Christian Burial for Margaret will be held at 11:30 a.m. on Thursday, October 28, 2021 at Holy Angels Catholic Church (138 8th Avenue– West Bend, WI  53095) with Rev. Howard Haase officiating.  Margaret's family will greet relatives and friends at Church on Thursday from 11 a.m. until the time Mass.
Interment on Friday, October 29, 2021 at Noon at Holy Cross Catholic Cemetery in Milwaukee.
Margaret's family extends their heartfelt appreciation to the staff at Waterford in West Bend for their loving care.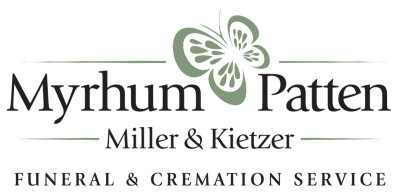 Myrhum-Patten Funeral & Cremation Service has been entrusted with Margaret's arrangements. Additional information and guest book may be found at www.myrhum-patten.com