June 10, 2021 – West Bend, WI – Mark S. Gempeler, 72, passed away peacefully on June 4, 2021 at Angels Grace Hospice in Oconomowoc, WI. He was born January 3, 1949 in Tomah, WI to Herbert and Johanna Gempeler.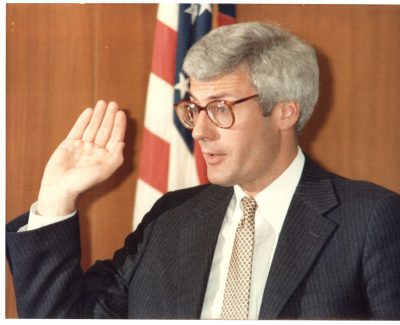 Mark graduated from West Bend High School, attended Northern Illinois University where he was awarded a sports scholarship for Track & Field and received his law degree from Marquette University.
After numerous professions in law, Mark was appointed a Waukesha County Circuit Court Judge in 1983, eventually becoming Chief Judge of Waukesha County in 1994. Although his judgeship required serious deliberation, colleagues will remember the lighthearted clown decorations throughout his chambers. The public will remember Mark as the judge who presided over a nationally televised Green Bay Packer court case in 2001.  Mark retired in 2008 ending his unopposed 25-year judicial career. Throughout his illustrious legal career Mark's crowning achievement was the honor of receiving the Wisconsin Judge of the Year award in 2004.
Mark is survived by his two sons Steve Mark Gempeler and his wife Uma of Washington, DC and Matthew George Gempeler and his wife Johanna also of DC, his wife Barbara Johnson of Oconomowoc, WI and his older sisters Jane Gempeler of Phoenix, AZ and Carole Claus of Northridge, CA.
He was preceded in death by his wife and mother of Mark's sons, Charla Rose Gempeler (Stube) in 2008.
Mark was known by many as a masterful storyteller, an avid cribbage, backgammon, and poker player, a Wisconsin sports enthusiast and an all-around kind, gentle and generous fellow with a wonderful sense of humor and quick wit.
The Gempeler family, in light of the pandemic and desire for both of Mark's sisters to be in attendance, will not be holding a traditional funeral.  Instead, close family will gather to celebrate Mark's life at a later date in Phoenix.  Memorial donations may be made to The American Cancer Society.