November 19, 2020 – Jackson, WI – Marvin Peter Hembel, 82 of Jackson passed away of pancreatic cancer on Wednesday, November 18, 2020 at the Kathy Hospice. Marvin was born December 13, 1937 on the Hembel Homestead in the Town of Polk, the son of the late Erman and Marie (nee Hahn) Hembel.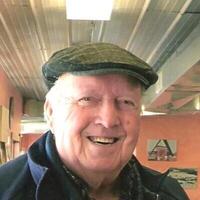 He attended Maple Lawn School and then West Bend High School, graduating in 1955. After graduation he started driving a milk truck while working on the family farm.
On October 29, 1958 he was united in marriage to Elizabeth "Betty" Strupp at St. Lawrence Catholic Church. Together they had 5 children, Karen, Laurie, Lindy, Mike and Julie.
In 1963 Marvin left the farm and bought his own semi-tractor and pursued a career in trucking, leasing to many companies for several years including Kreilkamp Trucking, Aluminum Industries and Gateway Transportation. After that he worked for his son at S&H Sealed Structures for four years and eventually on to Merco Thermo Tech, a heat and asbestos company until he retired in 2003.
He was a charter member of St. Frances Cabrini Catholic Church, a member of Local 113 for 14 years and a member of the American Truck Historical Society (ATHS).
With his passion in the trucking industry he bought a 1986 Peterbilt and restored in into an amazing show-truck, winning numerous awards over an 11 year span. Marvin enjoyed scrapping metal and can crushing in the garage and he kept his mind sharp by doing cross word puzzles, often helping family members when they were stuck. He also enjoyed his daily morning coffee at Coffeeville or Jimmy's Restaurant meeting up with friends, new or old for a friendly conversation, or just getting the paper read or a crossword puzzle complete.
Marvin is survived by his 4 children and their families: Laurie (Mark) Bublitz and their 2 sons, Adam (Marie) Bublitz (Liliana and Levi) and Grant (Claire) Bublitz (Lena),: Lindy Rohlinger and her 2 sons, Tyler (Jolene Paczesny) Wolfgram (Harper and Hadley) and Max Rohlinger,: Mike (Julie) Hembel and their 2 daughters, Kayla (Ross) Schuppel and Nicole (fiancé Joe Tesch) Hembel (William, Taylor, Brody and Tatum),: Julie (Mark) Boche and their daughter Bailey Boche. He is further survived by brothers-in-law and sisters-in-law: Dolores Koening, Janet Fritz, Peter (Elaine) Strupp, Cele Schmidt, Fred (Elaine) Strupp, Mary Lou (Jerry) O'Shea, Tom Strupp and Judy Schaefer. He is also survived by numerous nieces, nephews and many dear friends.
Marvin was preceded in death by his wife Betty in 2018, his daughter Karen in 1958, his parents Erman and Marie Hembel, his parents-in-law Isador and Cecelia Strupp, his brother Gerald Hembel, his sister-in-law Carol Strupp and his brothers-in-law: Eugene Fritz, Vernon Goeden and Marvin Schmidt.
A Mass of Christian Burial will be held Monday, November 23, 2020 at 1:30 p.m. at St. Frances Cabrini Catholic Church with Rev. Carlos Londono presiding. Burial will follow in Washington County Memorial Park. The family will greet visitors on Monday, at the church from 11 a.m. until 1:15 p.m. In lieu of flowers memorials to the family to be distributed to Marvin's' favorite charities are appreciated.
We would like to extend a special and heartfelt Thank You to the nurses and staff at the Kathy Hospice for their kind and compassionate care given to our father.
The Schmidt Funeral Home in West Bend is serving the family.